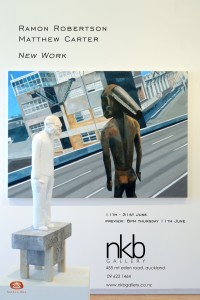 Ramon Robertson has teamed up with Matthew Carter in an exhibition of new painting and sculpture which opens on Thursday 11th June 2015.
Ramon Robertson's work 'engages with aspects of architecture and urbanisation. Mass production and standardization of objects is also a focus with an observation on the effect of our visual perception of objects and environment. Themes linking to human condition and behaviour in the city are also concepts explored in his work.' – www.ramonrobertson.com
Both Robertson's and Carter's figurative works are concerned with aspects of urban development and our human response to it having both lived and worked in cities around the globe during their respective careers.
The opening preview is at 6.00pm on Thursday 11th June at nkb gallery in Mount Eden, Auckland and the exhibition runs for three weeks. Everyone is welcome.